Birthday parties, family reunions, weddings, and banquets. Sounds like such fun, doesn't it?
Add to your celebrations by being well-prepared for all your skewer needs.
Bamboo skewers are perfect for hors d'oeuvres, cocktails, and grilling.
There are a handful of things to look for when choosing the skewer of your dreams. So, I've broken them all down for you.
You've no doubt seen bamboo skewers at one event or another. It's no surprise they're so popular.
Easy, durable, and made of eco-friendly material. Though made of bamboo,  they're often referred to as wooden skewers
You'll no doubt be looking for additional supplies to complete your party. So, be sure to check out our recommendations for bamboo utensils, bamboo cutlery, and bamboo plates.
Let's jump right into making your gathering that much more of a success.
Add a header to begin generating the table of contents
Bamboo Goods may earn an affiliate commission when you buy through our links. Includes Amazon, Cozy Earth, Novica, Royal Craft Wood, Seek Bamboo, and Uncommon Goods.
Benefits of Bamboo Skewers
Biodegradable and eco-friendly. Much better than plastic options. Perfect for large gatherings or when cooking away from home.
Inexpensive and often come in bulk.
No need for cleaning, as they are disposable. For normal home use, however, reusable metal skewers are the greener option.
How to Choose Bamboo Skewers
Size: Many skewers come in 6-inch and 12-inch varieties. Grilling and kabobs often call for skewers on the longer side. Thick skewers tend to hold up better on the grill and are less prone to bending with heavier foods.
Style: Common styles are straight, loop/knot, and paddle.

Straight: Best for grilling and kabobs. Meat, veggie, fruit.
Loop/knot: Best for cocktails and drinks. Such as placing martini olives.
Paddle: Best for appetizer plates and hors d'oeuvres. Think cheese and fruit party platters.

Quality: Good qualities include strength, sturdiness, having pointed tips, not being splintery. Thankfully, bamboo is a highly durable material. In fact, it's 21% stronger than steel.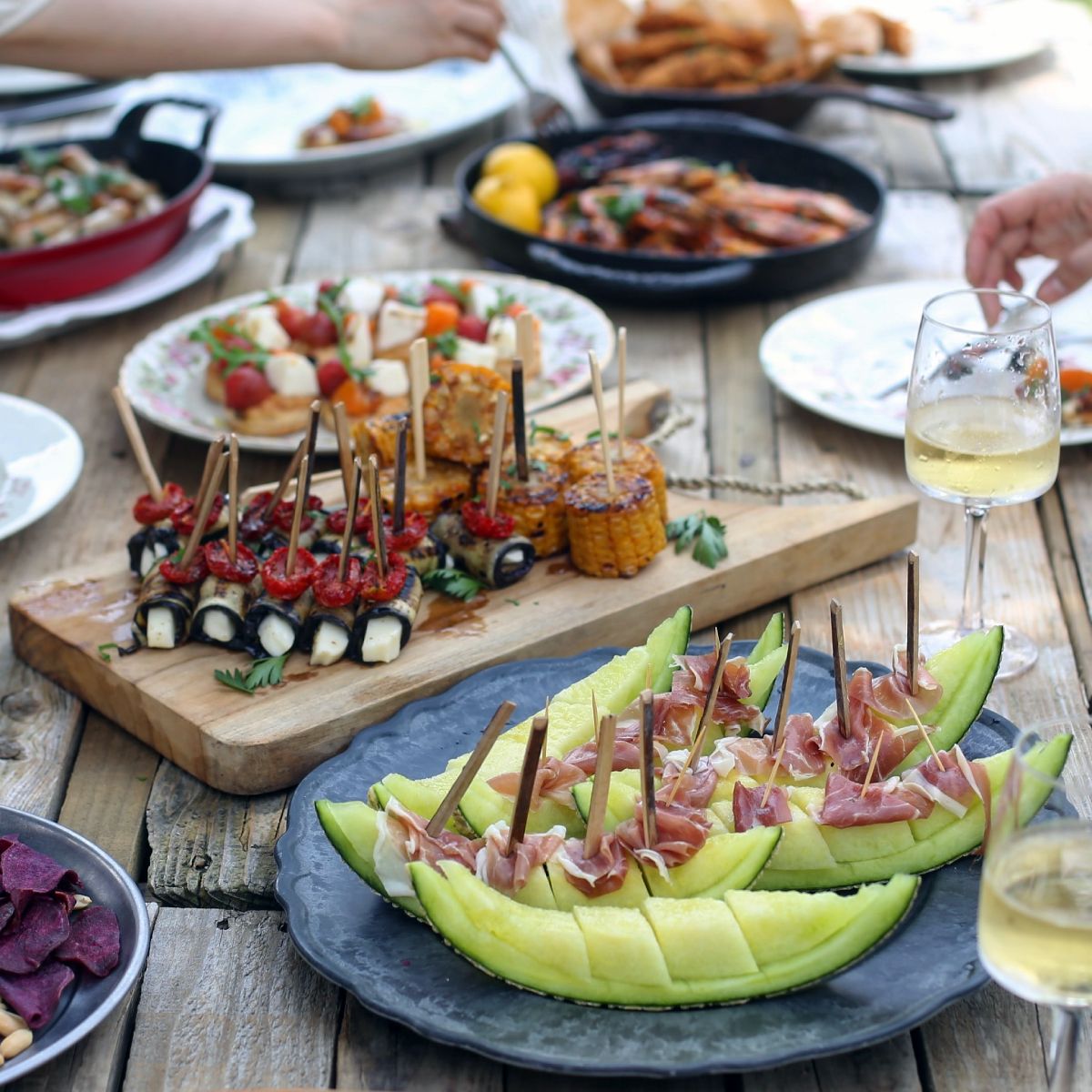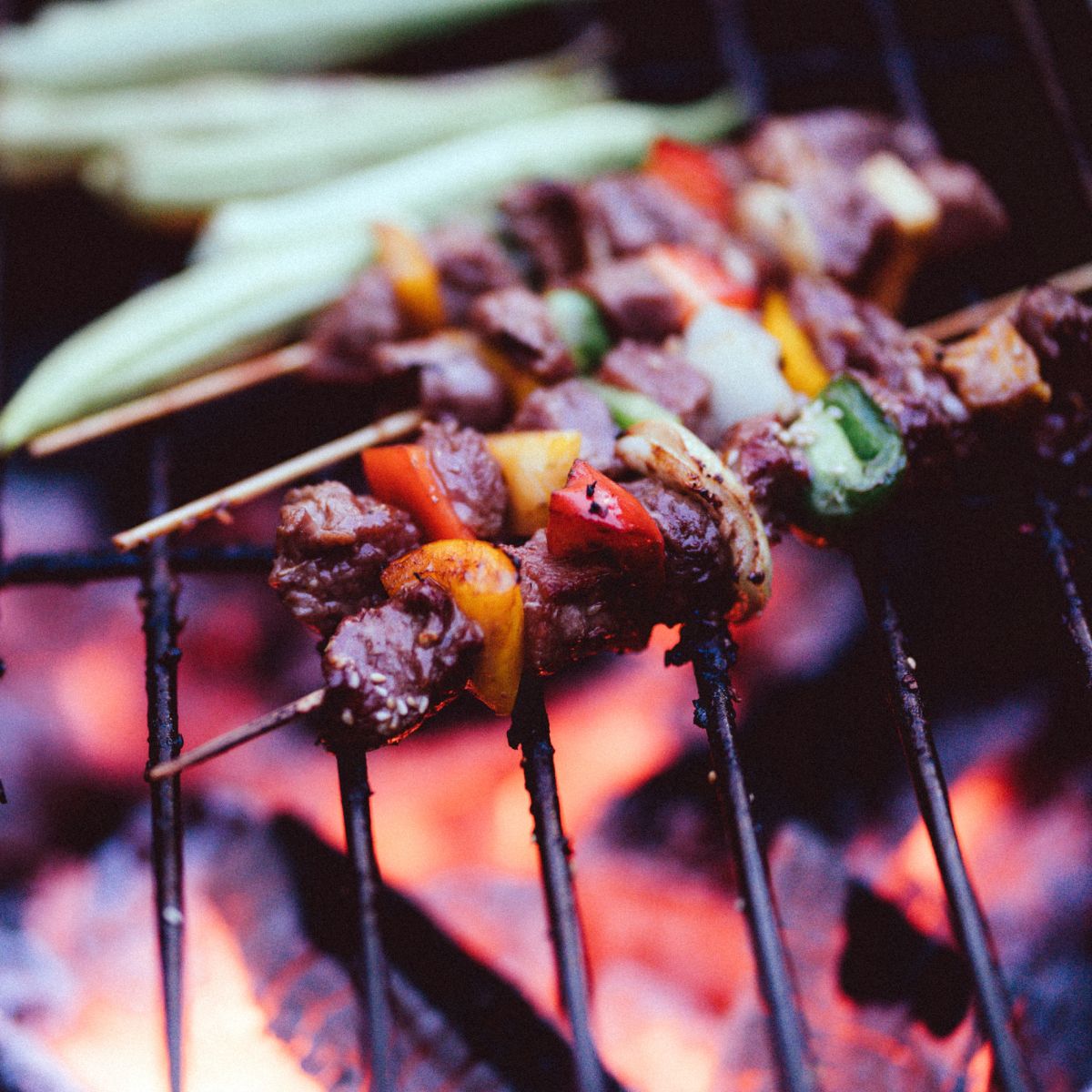 How to Use Bamboo Skewers
Grilling and kabobs: Straight style is best. Soak for at least 30 minutes prior to using on a grill. An overnight soak is even better. This allows the skewers to last longer on the grill without burning up.
Cocktails and drinks: Loop/knot style is best. Slide on an olive or two and place in the glass. For Bloody Marys, be more adventurous.
Appetizer plates and hors d'oeuvres: Paddle style is best. Stick a skewer in each piece of food to allow guests to help themselves.
Best Bamboo Skewers
For Grilling and Kabobs – Straight Style
You'll love these Hopelf bamboo skewers found on Amazon. They gently glide through food and are incredibly durable.
Plus, you'll enjoy a whole host of additional benefits:
Twice as thick as normal skewers, making them less prone to bending.
Splinter-free, allowing you to enjoy your food without worry.
Multiple lengths to choose from, including 6-inch and 12-inch. Accommodating all your occasions with their natural wooden appearance.
For Cocktails and Drinks – Loop/Knot Style
Last update on 2023-12-04 // Source: Amazon
So, you're hosting a large gathering of friends and family. Be it a family reunion, graduation party, wedding, or another type of event.
People need to drink, don't they?
And for that, we have the loop/knot style of bamboo skewers.
Plop on a couple of olives, a pepper, or even a cheese cube. Lay the garnish-laden skewer across the glass's rim or simply drop it in.
Additional benefits of these skewers:
Attractive presentation
Sold in 4-inch and 7-inch variations
For Appetizer Plates and Hors D'oeuvres – Paddle Style
Last update on 2023-12-04 // Source: Amazon
Cheese cube, anyone? Maybe some Caprese salad skewers? Try some of these skewered party appetizers, if you're in need of ideas.
Sturdy and easy to stick into food, your guests are sure to love the wooden appearance of these paddle-style bamboo skewers.
Perfect for all your occasions: birthdays, weddings, family reunions, banquets, buffets, catering, backyard parties, graduation parties.
Additional benefits:
Beautiful and simple
Three sizes to choose from