How you prepare your food can make all the difference. I know it has for me personally.
Since my purchase of a bamboo cutting board during the summer of 2020, I've been cooking a whole lot more healthy foods. Vegetables galore. #teamsweetpotato
All kidding aside, I'm truly appreciative of my cutting board. And I know you'll just love yours too.
As a preface, I want to stress the importance of bamboo cutting board care. Totally Bamboo provides a helpful resource for caring for bamboo products. Who doesn't love a long product lifespan?
Here are a quick handful of general best practices to get you started:
Hand-wash only. Dishwashers cause splintering.
Treat with oil from time to time. Mainly whenever the board appears dry. Royal Craft Wood food grade mineral oil is a great option.
Do not soak your cutting board for prolonged periods of time.
If you're looking for a full-on butcher block, don't worry. We have you covered. Check out our article on the best bamboo countertops and butcher blocks.
Ready? Great! Let's jump right into my top picks.
Add a header to begin generating the table of contents
Bamboo Goods may earn an affiliate commission when you buy through our links. Includes Amazon, Cozy Earth, Novica, Royal Craft Wood, Seek Bamboo, and Uncommon Goods.
I personally have owned their Large Cutting Board style since the summer of 2020. And I haven't looked back. As a nice touch, I appreciated that the Royal Craft Wood company owner sent me a thank-you note months after I received the product.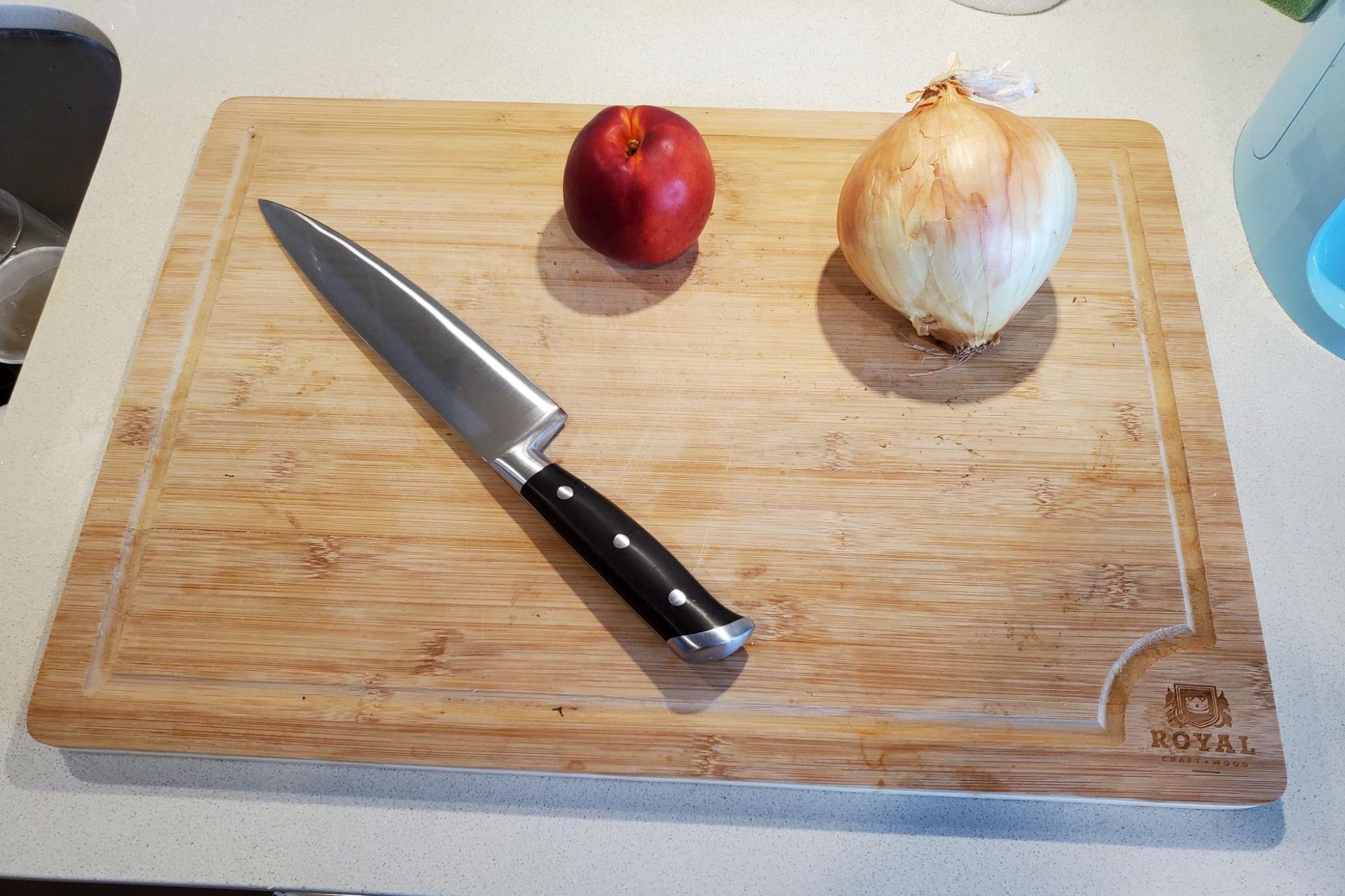 Admittedly, my board could use some of that oil I was talking about!
You'll appreciate the premium style of these boards, as there are made entirely out of carefully selected 100% bamboo.
What what's great? You can get the best of this brand by exploring all their varieties in a one-stop shop. View their entire collection of cutting boards to see for yourself.
Best Bamboo Cutting Board Set
You'll just love the Royal Craft Wood sets. They're a fine addition to your kitchen routine:
Thick, sturdy, durable, and gorgeous
Deep built-in juice grooves
Built-in handles
Double-sided design
Water and odor resistant
Take away the guesswork, and give yourself the gift of budget-friendly luxury. You'll be well-stocked for all your food prep needs.
I'm personally a big fan of extra-large cutting boards. But do also appreciate having a couple of smaller options on hand for those simple dishes.
Best Giftable
Totally Bamboo has a wide selection of bamboo cutting boards, perfect for a multitude of occasions and tastes.
Take a look over at the Totally Bamboo cutting boards collection page.
I want to specifically call your attention to the ridiculously giftable shaped cutting boards collection. Need I say more?
From paw prints to ukuleles, Totally Bamboo has you covered. You'll even find a whale tail in there somewhere!
Got a sports lover or state loyalist on your list? Boom. Here's your place.
I personally like the pineapple-shaped bamboo serving and cutting board. Add that Hawaiin flare to your loved one's kitchen. Bet they'll always think of you when meal prepping and serving.
Take note of Totally Bamboo's care instructions for bamboo cutting boards. You (and your loved one) will be glad you did.