I talk a lot about using bamboo in your garden or outdoor space. But today I'm looking at something you can use to bring the outdoors, indoors… bamboo beaded curtains!
When you imagine a beaded curtain, you may not immediately think about incorporating one into your home decor. As a kid, I can remember them screening the back rooms of local shops from the prying eyes of customers.
But today, bamboo is firmly back in fashion – even the likes of Urban Outfitters are on board! And we're discovering all sorts of uses for this old favorite.
Let's take a look in more depth…
But before we do — interested in why we love bamboo products so much? Check out our Why Bamboo page.
Add a header to begin generating the table of contents
What Are Bamboo Beaded Curtains?
There are lots of products and textiles now being made from bamboo. So we need to point out the difference between bamboo beaded curtains and bamboo curtains.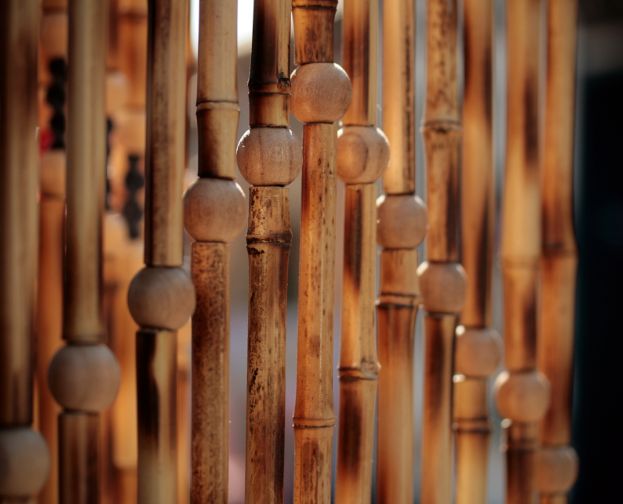 Advances in fabric technology mean that it's now possible to buy textile curtains made from bamboo! Yes, really! They block out the light and keep in the heat. If you'd like to know more about those, check out this helpful article.
But, if you're interested in the less solid variety – read on…
Bamboo beaded curtains could be seen as the precursor to vertical blinds – but much simpler to make. Strands of string or twine are suspended from a horizontal bar and allowed to hang free. Then, bamboo beads are threaded onto each string in a pattern. Easy!
So where did the idea come from?
Brief History of Bamboo Beaded Curtains
With huge amounts of bamboo grown in Asia, it's logical to assume that's where the first bamboo curtains came from.
In fact, one of the earliest dated accounts of a bead curtain comes from China. In the time of the Jin dynasty (265 – 420 AD), bead curtains shielded the emperor's concubines from the rest of the imperial court. This allowed the concubines to view the comings and goings of the court, without anyone seeing them.
It's not clear exactly when bamboo bead curtains first gained popularity in the East. But we know they've been used in homes for at least a couple of hundred years.
And when the hippie movement first burst onto the scene in the United States in the 1960s, it started an interior design revolution. The communal living, open attitudes and harmony with nature it encouraged, promoted many to make their homes less formal. Part of that was adopting decoration ideas from India and the far East.
The movement continued through the 70s. And we still associate accessories and trinkets from Asia with that hippie vibe today.
So, if you're thinking about incorporating a vintage bohemian look into your home, read on…
What Are Bamboo Beaded Curtains Used For?
Doorways
I'm not a fan of doors. Unless they're absolutely necessary, of course. The doors in my home are generally open. But if you're looking for a halfway house, a bamboo bead curtain is perfect. Allowing a free flow of light and air, bamboo bead curtains, sometimes known as door beads, are ideal. They provide a separation without giving you that closed-in feeling you get with a solid door.
They're also fantastic at letting you know someone's arriving. The wind-chime-like sound alerts you in seconds. I'll bet that's why those shopkeepers of old favored them. Aha! Now it makes sense.
Windows
Use bamboo beaded curtains as a type of window blind. Affordable and easy to fit, they'll allow you some privacy without blocking out all your natural daylight.
Deters Flying Insects
It's said that bamboo beaded curtains can be effective at deterring flying insects from entering your home too. Leave your door open in summer without those annoying flies buzzing around your head.
Room Separation
Got a big room? Or one that's used for several purposes? Why not consider dividing it into two using a bamboo beaded curtain? The same as the garden, separating a room can often make it seem bigger rather than smaller. To read about other ways to divide your room check out our article on bamboo room dividers.
Why not break up long corridors, like those in old Victorian houses, with a bamboo beaded curtain or two? It makes the space feel much less intimidating.
Hide Storage Areas
Not great at keeping your shelves tidy? Who wants everyone to see what's in your closet anyway?
Using a bamboo bead curtain as a privacy screen is an easy and affordable way of keeping your storage areas separate from your living area.
Decor
But bamboo beaded curtains aren't only about functionality. No no, there's the aesthetic too. With a wealth of styles to choose from, there's bound to be a design that works in your space. And you don't just need to hang them across doors or windows. They can be purely decorative too!
In the boho fantasy island bedroom I created as a teenager, I wanted to jazz up my plain walls. Not having a budget to decorate (and not daring to ask if I could paint) I hung bamboo bead curtains on the wall. They acted as a backdrop for my display of exotic houseplants. And, if I say so myself, they looked pretty smart.
My bamboo beaded curtain was made of natural bamboo and wooden beads – it was the only type around. That was a very long time ago!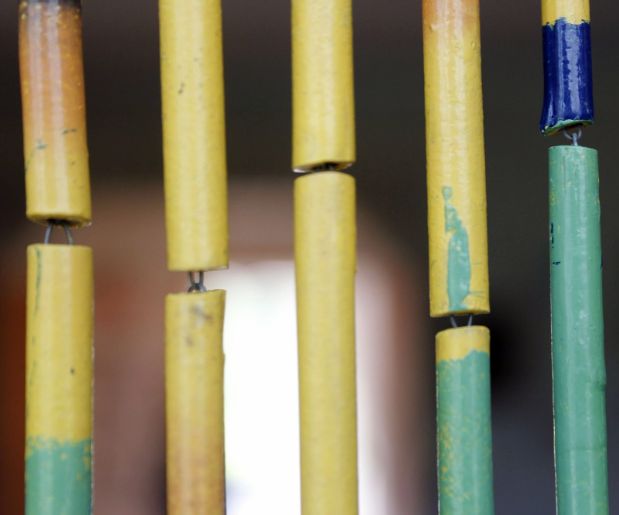 Today, we can still choose a natural look but there's a whole host of other options too. Beads painted in every color, you'll even find full designs printed onto bamboo. Whether you're looking for a peace sign, moon and stars, a full-on panorama, or your favorite animal, you're bound to find something that floats your boat.
Take a look at some of the funky design ideas we've found on our Bamboo Beaded Curtains Pinterest board:
Here's a quick recap…
Bamboo Beaded Curtains Pros
Add interest to your room
Divide up long spaces such as hallways
Screens storage areas
Act as a soft separation
Let in natural light
Allow air to circulate
Deter flying insects
Affordable and easy to install
Bamboo Beaded Curtains Cons
Won't keep out drafts
Won't block out light or sound
Could get tangled
Not suitable for areas with babies or small children
Alternatives to Bamboo Beaded Curtains
There are lots of alternatives to bamboo beaded curtains. Let's take a look at a few.
Although bamboo is one of the most popular materials you'll also find beaded curtains made from…
Glass Beads
Glass beaded curtains are luxurious. They reflect light magnificently and make a beautiful tinkling sound when blown by a breeze. Among the most expensive beaded curtains, they're also very delicate and fragile.
Acrylic Beads
Acrylic beaded curtains come in lots of colors and mimic the effect of glass (in look if not in sound). The light playing off different colored beads can look attractive. The vast range of colors means they're easy to coordinate too. Not as fragile as glass, they're more suited to high-traffic areas. But it's important to point out that they're not too friendly to the environment.
Wooden Beads
Often used with bamboo to make door beads, you'll also find curtains made purely of wooden beads. They look great and are more sustainable than plastic. You may be limited to the type of designs available compared to bamboo varieties.
Paper Beads
I've seen this online and it looks pretty cool. If you love crafting why not make some paper beads from old magazines? You can use them for all sorts of crafts. Why not have a go at making your own door curtain with bamboo and paper beads?
Of course, you don't need to limit yourself to only using beaded curtains. You could also think about:
Care and Maintenance
Keeping your bamboo beaded curtain in good condition is pretty simple. Use a soft cloth or natural duster to remove dust or debris on a regular basis. If your curtain gets greasy, try wiping it down with a mixture of eco-friendly detergent and warm water. Don't get your curtain too wet, and dry it out naturally (not over a heat source such as a radiator).
Are you ready to fit a bamboo beaded curtain in your home or office? Why not send in a photo when it's in place?
References and Continued Reading
To learn more about the history of Chinese bead curtains, check out this journal article: Chinese Bead Curtains, Past and Present.  I found it tremendously insightful and you surely will too.