There's something magical about being around water. Don't you think?
Walking along the beach or sitting beside an ambling stream, our cares and worries ebb away. We feel relaxed and at peace. Of course, part of this is due to our surroundings, but some researchers believe that the soothing sound of moving water calms our brainwaves too.
These natural sounds form a kind of white noise that detracts from the more abrupt noises of daily life such as traffic, mobile phones, and other people. Listening to the sound of moving water such as a river, stream, or even rainfall has been shown to help with insomnia too.
Few of us are lucky enough to live close to a wild ocean or have a brook babbling gently through our yard. But we can still recreate the beautiful sounds of nature in our garden or home to enjoy similar benefits.
Adding a bamboo water fountain to an indoor or outdoor space is an easy way to add some peace and tranquility to your day. You might also consider adding a bamboo wind chime or two.
Incredibly we've been using fountains since around 3000 BC. Initially, there wasn't the technology to pump the water. The first fountains were found close to sources of water such as natural springs. They used gravity to deliver drinking water to settlements. But much later on, from around 500 AD, fountains began to appear as decorations in the gardens of palaces and public spaces.
Japan in particular is known for its garden designs featuring water, and of course, bamboo. Moving water in a Japanese garden is said to symbolize purification, but in agricultural spaces, bamboo water fountains had a much more practical use.
Let's take a look at bamboo water fountains and where we use them today…
Add a header to begin generating the table of contents
Bamboo Goods may earn an affiliate commission when you buy through our links. Includes Amazon, Cozy Earth, Novica, Royal Craft Wood, Seek Bamboo, and Uncommon Goods.
What Are Bamboo Water Fountains
Although we now have the technology to pump water, bamboo water fountains look a lot like we'd imagine the first fountains would have. Rather than shooting sprays of water into the air, these fountains deliver water calmly out of one or more bamboo spouts into a bowl, pond, or arrangement of stones.
Where to Use a Bamboo Water Fountain
With a steady flow of water mimicking a small natural waterfall, the soothing, gentle sounds of a bamboo water fountain will compliment practically any space.
Gardens and Patios
No garden is complete without some sort of water feature. Adding a bamboo water fountain gives added interest to your outdoor soundscape. Pleasing to the eye, you may find that visitors to your garden such as birds or hedgehogs take advantage of the free water supply too.
If your outdoor space is limited, a small fountain can still add charm to your patio or balcony. Consider using a solar-powered pump to save energy.
Why not decorate the bowl of your bamboo water fountain with some aquatic plants? If there's space you could add some outdoor fish too. The gentle flow of water from the fountain will help to oxygenate the water, keeping plants and fish happy and healthy.
In Your Home
Bamboo water fountains are also fun to use in the home. Maybe you have trouble sleeping or sometimes find it difficult to concentrate when you're reading or working in your home office. Bamboo water fountains provide a soothing natural background, they can be inexpensive to run and they're easy to clean.
In the Office
Adding a simple bamboo water feature in the lobby of your office or practice provides a stunning, unusual focal point for visitors. The flow of running water helps create a welcoming atmosphere and dampens the sounds of harsh technology.
Types of Bamboo Water Fountains
Bamboo water fountains come in all shapes and sizes. From a small fountain you can use inside your home to elaborate features for a large garden, there's something to suit every budget.
Simple Bamboo Water Fountain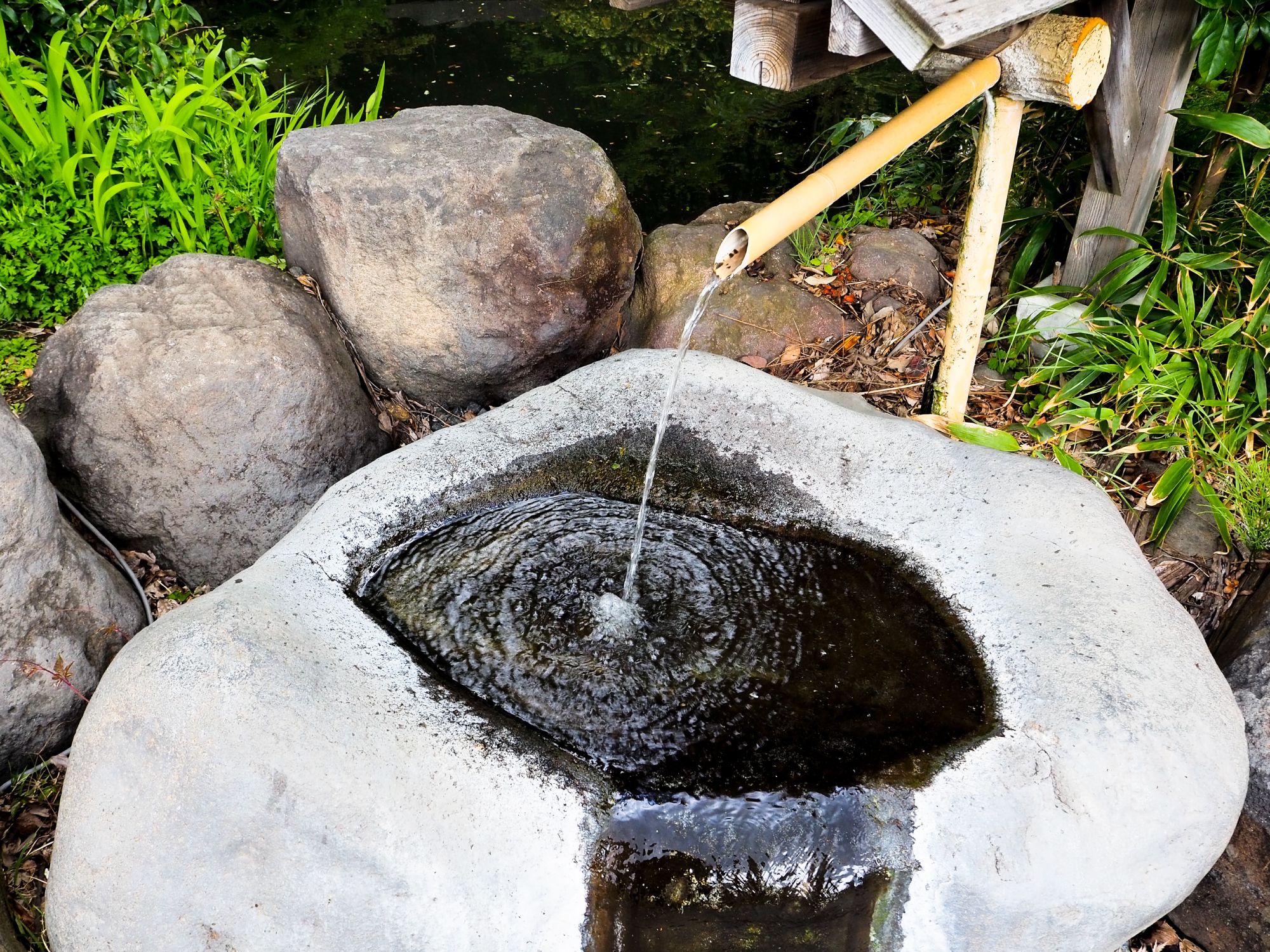 The most basic bamboo water fountain uses only two pieces of bamboo. One large hollow upright and one smaller horizontal spout. Water is pumped up a plastic tube inside the upright and out of the spout into a bowl or hidden bucket.
Portable or Indoor Bamboo Water Fountain
This style of fountain uses the same principle as the simple variety above. But, rather than using an upright, the spout is mounted across two or three horizontal pieces of bamboo. This way the fountain can simply sit across a bowl of your choice. So it's portable and perfect for small spaces or inside the home.
Check out our Best Minimalist Design below.
Shishi Odoshi Water Fountain
One famous bamboo water fountain design is known as Shishi Odoshi (or Sōzu). Originally used as a type of scarecrow, this fountain works on a pivot system. A bamboo tube that is closed at one end naturally pivots to have the open end facing up when empty. Water pours into the open tube until the weight causes the tube to pivot downwards. The water empties from the tube and it swings back up. As it does so, the bottom of the tube hits a rock. Historically this sharp contrasting sound kept curious deer and wild boar away from crops.
Take a look at this cool Shishi Odoshi in action:
Complex Bamboo Water Fountain
Complex bamboo water fountains often use troughs, waterwheels, and multiple spouts to increase the amount of water flowing at any time. That said, these funky designs are often small enough to sit in a corner of your home too.
How to Make Your Own DIY Bamboo Water Fountain
As you've read above, bamboo fountains can be simple or complex, the only limit is your imagination. You can easily make your own bamboo water fountain with a few simple components. Once you get started, who knows where it will end?
Are you a fan of DIY projects? Then watch this video to learn how you can make a simple bamboo fountain that looks amazing!
Best Bamboo Water Fountains
Here are a few bamboo water fountains we found that look fabulous.
What to Consider When Buying and Installing a Bamboo Water Fountain
Bamboo water fountains are simple to install and operate but there are a few things you may wish to consider before you make a buying decision:
The Japanese believe that water flowing toward the house brings prosperity. Why not bear that in mind when picking a site for your fountain?
Look carefully at the dimensions before you buy and check them against the space you have available. Make sure you have a level, solid foundation before you start.
Check if a pump is included in the package. If it's not you can pick up one cheaply from sites such as Bamboo Accents or Amazon, or ask your retailer to recommend one.
Make sure you have a suitable water reservoir (if one isn't supplied).
Think about where you'll site your fountain and how the electricity will be connected to the pump. How long is the pump lead? Do you need an extension?
If you're planning on having fish or plants in your fountain, check with the store you buy from that the environment is suitable for them.
And of course, you'll want to make sure any children are supervised when playing with or near the fountain.
Care and Maintenance
It's advisable to clean and maintain your bamboo water feature once a year (in Spring). Give the bamboo one or two coats of organic wood preserver to help with water resistance and extend its life.
Even though water is running through your fountain, algae can build up in the bowl or reservoir. Check this regularly in warmer months and change the water where necessary. For fountains featuring fish or plants, follow the advice of your garden center or aquatic store.